5 Star Rated Rekha Dental Laser & Implant Center in Raj Nagar Extension
Book your dental appointments with minimum wait-time in Raj Nagar Extension, Ghaziabad
Map Directions
You can easily locate our clinic as it is in close proximity to NEAR KW Delhi 6 Mall, Raj Nagar EXTENSION.
Specialties / Treatments
Tooth colored fillings
Root canal treatment
Laser RCT
crown and bridges
laser dentistry
teeth cleaning
teeth whitening
smile designing
veneers
inlay/onlay
braces
tooth removal
wisdom tooth removal
Meet our Dentists @ Raj Nagar Clinic
It's time to fix your smile, fix your life. Our team of best dentists, at Raj Nagar Extension, are here to help.
About Dentistry at Raj Nagar
The professionals at Rekha Dental Clinic & Implant Center, Raj Nagar Extension, are committed to improving your dental health, care & appearance through advanced medical techniques and customized treatment as per need.
At Rekha Dental, Our greatest reward is seeing patients' genuine happiness & confident smiles.
Some of the most common dental treatments we provide at RajNagar Extension Clinic include:
Teeth Whitening
Dental Crowns
Dental Bridges
Dental Implants
Extraction of Impacted Teeth
Wisdom Tooth Extraction
Reconstructive Oral Surgery
Dentures etc.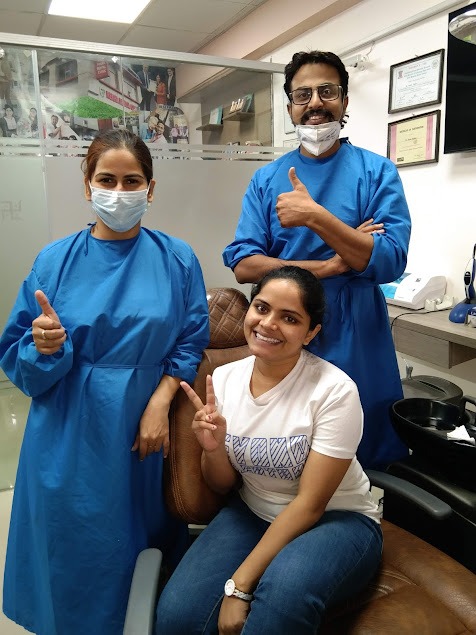 What Sets Us Apart From other Dentists in Raj Nagar Extension?
Our team of dental experts strive to create a friendly, compassionate, and comfortable chair-side experience. ‍When you choose an implant specialist, you will feel heard, valued, and respected, and given the best oral care options that meet your oral care expectations. Guaranteed.
5,000+ dental patients treated
Team of highly skilled Dentists with combined 25+ years experience
A to Z dental specialties under one roof
Painless Dental Treatments
All dental specialties done under one organization
Utilizing the latest in advanced digital & laser dentistry
FAQs about Rekha Dental Clinic & Dental Treatment in Raj Nagar Extension