Looking for dental root canal treatment in Ghaziabad?
give us a call today!
Save your damaged tooth with root canal treatment at Rekha Dental Laser & Implant Center
Set appointment today!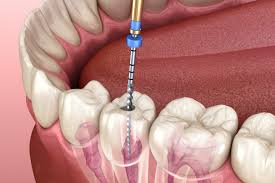 We are 1st clinic in Ghaziabad using laser in dentistry
We are using dr smile soft tissue laser. ours is the 1st clinic in Ghaziabad using laser in dentistry for various procedures such as root canals, gummy smiles, bio-stimulation & bloodless procedures for better precision and patient satisfaction as laser holds advantages over traditional instruments. It keeps the duration of treatment short and reduces the risks with better results.
Common Questions about Root Canal Treatment(RCT)
What is a root canal?

It is a procedure done to remove infected pulp tissue which is the third layer of tooth present below enamel and dentin using various instruments. Proper cleaning of canals and irrigation is done and then the canals are sealed properly with bio-compatible materials.
When does one needs root canal treatment?

• Pain is one of the main indications of root canals.
• Sensitivity to hot and cold beverages and foods
• Deep decay in the tooth
• Swelling and tenderness in tooth
• Pain on food lodgment
• Paining on touching the tooth
Does it hurts during root canal?

It usually doesn't hurts as whole procedure is done only after numbing the area, root canal treatment relieves the pain of your tooth
Can I go to work after root canal treatment?

You should be able to work, drive safely after the procedure.
It is advised to avoid chewing and talking much due to the numb effect of local anesthesia
Does it hurt after root canal?

Your tooth might feel sensitive or tender for a few days and chewing on other side is recommended till crowns are placed. The normal recovery time is one week
Can RCT be done in a single sitting?

Yes, depending on your tooth conditions.
Does all cavities needs root canals?

It depends on the tooth condition and symptoms and can only be judged solely after a clinical examination.
Does RCT require multiple visits?

It may differ from the tooth to tooth. On an average it is completed in one or two sittings
What happens if you refuse the recommended treatment of a root canal?

Your tooth might pain , develop a swelling, fracture on its own or you might have to get it removed as last resort. It might lead to additional tooth decays.
How long does a tooth lasts after a root canal?

After treatment the tooth lasts as normally as any other tooth in your mouth
Rekha Dental Laser & Implant Center Ghaziabad
Our goal is to provide exceptional dentistry & Wider smile.
Our reputation, as top rated dental clinic in Ghaziabad, is built on expertise & exceptional dental services.
We are here to help you
Contact info
Address
A-007, Raj Nagar residency, near Delhi 6 mall, Raj Nagar Extension, Ghaziabad, Uttar Pradesh 201003
House No 622, First Floor, Satyam Enclave , New Kotgaon, Opp Rakesh Marg, Ghaziabad, Uttar Pradesh 201001
Make your appointment today!